Chrysler transmission repair and rebuilt transmissions
at our Lake Worth shop.
Common transmission repairs and problems with Chrysler model cars.
Chrysler cars and trucks made in America have had numerous problems requiring transmission repairs, some being more complex than others. The 45RFE transmission placed into the Grand Cherokee often will lurch into neutral from lower drive gears because of a cracked filter or O-ring that causes a loss of oil pressure. This is one of the easier repairs which just requires replacing these parts. If the vehicle does not shift properly then the solenoid needs replacing which is also not a major repair. If you are doing a lot of towing with your truck you may want to consider installing a cooler for the transmission so that it won't overheat. We can solve any problem you have whether is be a rebuild job, replacing parts or repairing your automatic transmission at The Lake Worth Transmission Repair Shop.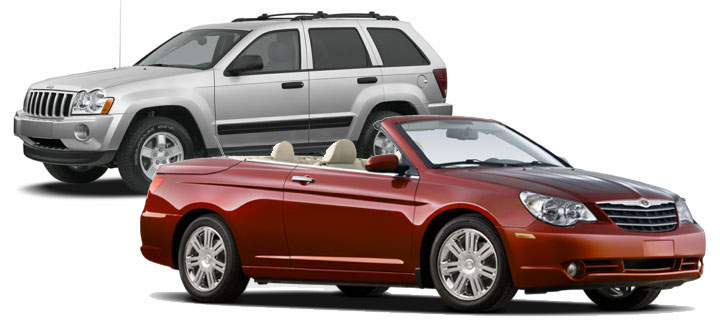 Other Chrysler transmission going back in history from the 1956 Powerlite two speed, the 1992 four speed automatic transmission to the 2004 six speed longitudinal standard have changed quite a bit but each has unique problems that are found in the model cars and trucks they were installed in. The Chrysler transmission is more fragile than other manufacturers especially after a transmission flush. It is important to use the proper fluid, the ATF+4 so that your transmission will perform properly after a flush. These continuous variable transmissions found in Chrysler, Jeep and Dodge cars and trucks uses more belts and pulleys (which is why they were out quicker) which gives the vehicle a seamless transition when shifting and gets better miles per gallon.
The Chrysler Sebring from the mid 1990's to 2009 suffer from shifting problems due to a bad PCM, underdrive clutch and torque convertor with worn needle bearings that causes a grinding sound. Make sure to check for leaking transmission fluids which cause a slipping transmission and will also lead to major problems if not caught soon enough.
Chrysler, Dodge and Plymouth 4-speeds are the most common transmission in this make of car. The Powertrain Control Module may need replacement or reprogramming, solenoid packs, or ground straps may also need to be changed. It may also be a bad sensor, loose connections or a torque converter issue. The Lake Worth Transmission Repair Shop in Palm Beach County are experts in repairing transmissions in Chrysler, Dodge and Jeep cars and trucks so give us a call so we can diagnose your transmission problems and get your repairs done ate the lowest cost possible.